BIOLOGICAL CONTROL
The use of biological control agents has enormous potential in various agricultural products to minimize the impact of diseases and pest insects.

At Lage y Cía. we devote a significant proportion of our resources to research and development of inputs based on biological control agents. This has led us to achieve the first biological fungicide and the first biological insecticide at the national level (in this case, together with INIA) registered with the Ministry of Livestock, Agriculture and Fisheries.

The success of an input as biological controller depends not only on the microorganism and strain in question, but also on its formulation (carrier, concentration, survival), and on the associated handling recommendations. In our company we work on all of these aspects in order to offer reliable and high-efficiency biological control products.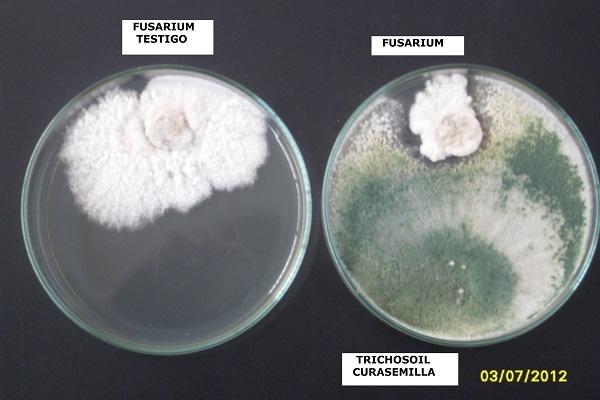 BIOLOGICAL FUNGICIDES
Latest generation inputs based on biological control agents, which contribute to the development of ecological production schemes, sustainable over time.

Formulation based on the Trichoderma harzianum fungus for the control of pathogenic fungi in various vegetable, forest and ornamental crops.

It allows control of various diseases in an environmentally friendly way, so it is an excellent tool for Organic or Integrated Production Systems.

TECHNICAL BASIS

Biological control of diseases is a management tool that does not harm the environment and can be used together with others in Integrated Management or Organic Production systems.

Pathogen biological control measures include among others the application of antagonist microbial agents.

The fungal genus Trichoderma is one of the most studied and used worldwide. It exerts its action through various mechanisms, such as mycoparasitism, antibiosis, competition for nutrients, etc. It has effects not only on the pathogen but also as a growth promoter, improving the conditions of the plant to ward off diseases. Being a natural inhabitant of soils, it acts mainly on soil pathogens although it is also used for some foliar diseases such as Botrytis.

In order that Trichoderma can exercise its control, it must be previously established in the environment, for which it is convenient to practice system management that favors their development. In turn, it is important that applications of this biocontrol agent start before conditions exist for the emergence of pathogens meant to be controlled, in this way early colonization and establishment of Trichoderma is favored in relation to phytopathogenic fungi.